Ama Dablam (6812m) is a mountain in the eastern Himalayan and it is one of the most spectacular mountains in the world. A true alpinist's dream, for many, but not for everybody.
The dream of Jost was to climb it alone and on 2014 he became the youngest to climb Ama Dablam solo.
Watch this epic journey and more on Jost's YouTube channel!
Since he summited Annapurna (8091m) in May 2016 Jost Kobusch belongs to the youngest Germans to climb an 8000-meter peak. But there is one thing that makes a difference to most climbers, his unusual approach: solo, no oxygen, and no support.
Follow Jost over the most beautiful, but demanding mountains on Instagram or Facebook. jostkobusch.com is the place for reading and discover more about his previous expeditions what it is coming next!
Quality is also sustainability.
If you have a good product that lasts long, it means that you don't need to buy another product.

Jost Kobush
Jost, what are your top 3 gear?
These are my current favorite top 3 gear:
– Watusi down suite / Black Yak / Expedition suit
– Shell full leather pro / The heat company / Shell gloves
– Rebelle Tech HD / Scarpa / Boots
What do you think about sustainability?
Sustainability does not come only from using recycling, environmental-friendly material, like biodegradable or organic. Sustainability for me is also quality. If you have a good product that lasts long, it means that you don't need to buy another product.
When some of my equipment gets broken I repair it as long as possible because it is part of my personal sustainability concept.
Moreover, when I'm looking for new gear, it's important that the equipment is able to perform and has the best balance between durability and weight.
1. Expedition suit
I love the Watusi down suit from Black Yak, because I had a lot of impact on it.
I was there from the first prototype, testing, developing together with the Black Yak global development team and Adam Bielecki.
I use it on my Everest winter expedition, Adam took it to K2 in winter.
The material utilized to produce the expedition suit is very durable, strong, and easy to repair. This makes this equipment more sustainable!
I would like to say it is really the best suit that I've ever used.
I deeply trust in it!
2. Shell gloves
Gloves for really hard climbing or technical climbing require flexibility and Shell full leather pro from The heat company provides it.
Especially if you are at a higher altitude. Moving from a serious rock climbing to a simpler ice climbing, temperature condition will change and you need to adjust to it. These shell gloves help to do it.
These gloves from The heat company are accompanying me for a long time, since from my first 8000 m peak. I used them in the last Alaska winter climbing project as well, in the basecamp at 2500m, we reached the temperature -40°C (-40°F), and surprisingly… they were warm enough.
I also used them during the first ascent in Nepal. During the night it was extremely cold, and during the day I faced high wind speeds. I then had over gloves that I could put over to windshield the gloves. I love it this systematic approach.
Full leather from outside, this is a hybrid glove. It is not only a mitten but is not only a glove either. It is also easy to combine with gloves in the lower layer.
This model may not be the ideal glove for proper ice climbing, because you don't have your finger separated, but they are great for mountaineering.
If you have a section where you don't need your fingers, they are perfect.
Additionally, at the glove, there is the snow gator to the arm to prevent the snow from coming in easily.
I'm really happy with those, I've hardcore used them, and they last long. Without any doubt, I recommend them to everybody!
3. Boots
Another favorite gear is Ribelle Tech HD boot from Scarpa.
It's a hybrid boot, it's not a traditional hiking shoe, but it also not even a traditional mountaineering boot.
I used them extensively during my Everest project and while climbing a few 6000m peaks. Even during wintertime, they are able to keep enough warm, and they especially well-performing on hard rock climbing sections.
If you move fast, it is totally fine in Himalaya.
I've used them a lot in the French alps as well, perfect as a hiking boot. Forget those boots where they are so solid and massive. With these Ribelle Tech HD you can walk on the rock terrain till you reach the ice, this is the perfect hybrid boot and I'm really happy with them.
Ribelle Tech HD really surprises me with its quality and they are really comfy to walk on. You can also use them with crampons, you can do rock climbing, they don't really feel like a boot, but they do offer all the advantages of the traditional boot.
They are really awesome, I could recommend them without any doubt.
Scarpa: Ribelle Tech HD
Watusi down suit / Black Yak
The Watusi Expedition Down Suit is the culmination of years of design development and testing by the Black Yak team.
The expedition suit is the most technically engineered and thermally efficient product for use in extreme, high altitude expeditions.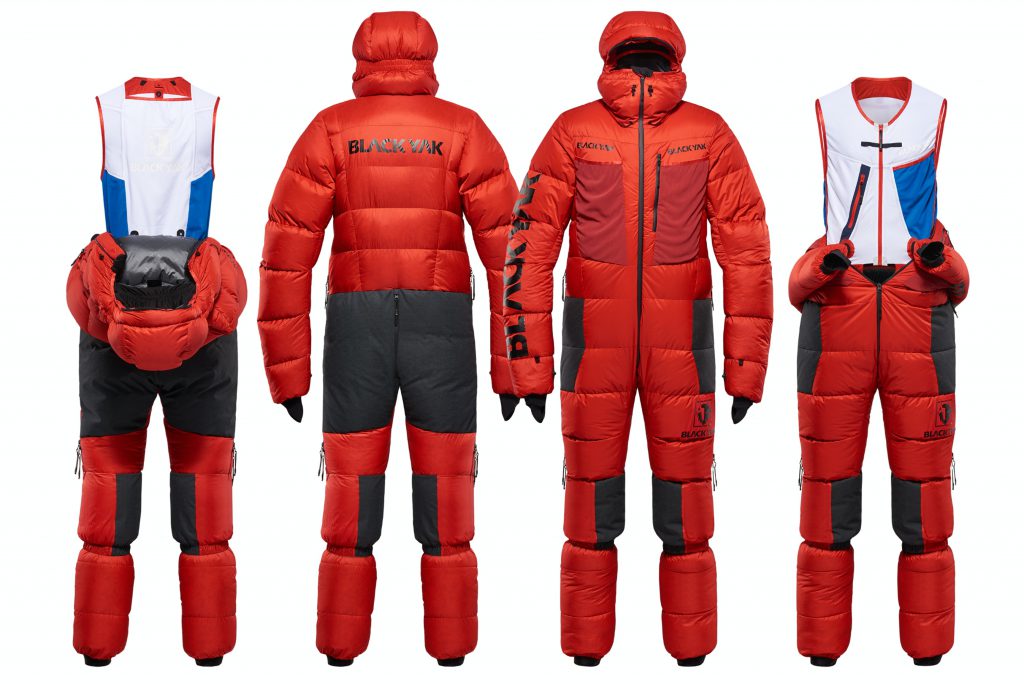 Every detail has been considered to allow the climber to focus on the climb. From the high thermal efficiency to the multi-slider zippers with extended zipper pullers. No other product of this type is as feature rich.
Black Yak: Watusi down suit
Shell full leather pro / The heat company
Originally developed for military units in Germany and Austria – now worldwide popular as multifunctional oudoor gloves.
Features:
– Simply fold down thumb and mitten – ideal for handling
– Top breathable, highly wind and water repellent
– Premium Insulation PRIMALOFT Gold & Grip Control
– Elastic wrist straps
– Extra pocket for HEAT Handwarmers
– Additionally extra long, fold-out waistband
The heat company: Shell full leather pro
Ribelle Tech HD / Scarpa
A category-defying hybrid boot combines elements of running and mountaineering footwear to create a truly innovative tool for ultralight, high-output alpinism.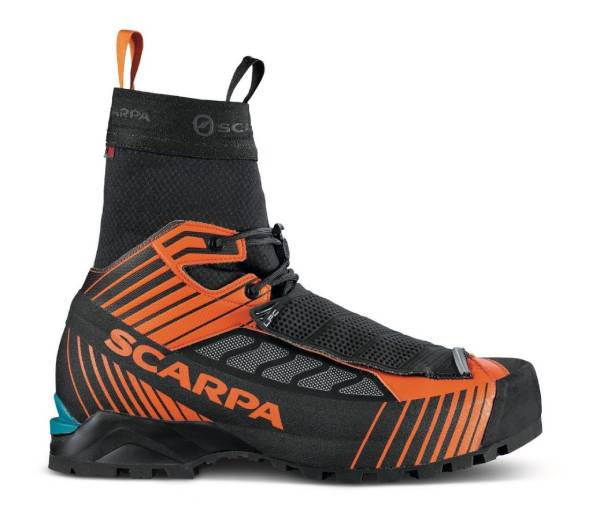 Features:
– Primary material: Leather & Synthetic
– Crampon compatibility: Semi-Automatic
– Lining: HDry® + Primaloft® Gold & Silver
– Weight reference: 550g; 1lb 3.4oz (1/2 pair size 42)
Scarpa: Ribelle Tech HD