Why would a person like Mike McKnight want to run more than 600 miles through the wilderness alone?
Well, for Mike, the answer is pretty simple: Because he can.
For sure, you are not expecting smashing every ultra running from a person who broke his back in a ski accident several years ago and had 2 rods and 9 screws placed in his spine, along with part of his hip bone.
Ladies and gentlemen, Mike McKnight!
Self-discipline is a choice and it plays a key role in determining one's success.

Mike McKnight
Who is Mike McKnight?
Michael McKnight is a professional ultra-endurance athlete from Smithfield, Utah, and with his diet, he has made the way to success.
Mike is a Low Carb Runner following the keto diet and you can read more about his experience and get some coaching sessions from lowcarb-runner.com.
McKnight holds the Triple Crown of 200s record by running Bigfoot 200, Tahoe 200, and Moab 240 in a faster combined time, and even winning all three competitions.
Mike has been able to run those almost 640 miles (1030km) of racing within three months in 161 hours and 20 minutes smashing his own cumulative-time record for the three races by… 43 hours.
The three races are done consecutively in a three-month period.
Unlike most ultramarathon race series, there is very little recovery time for runners between the long and arduous races.
With this short recovery time, attention to the smallest details, even in nutrition, is extremely important.
Since shifting his diet, Mike said in a previous interview, he has increased his running performance in ways he never thought possible.
You can follow Mike on Instagram with inspiring pictures and unbelievable beautiful sceneries.
Top 3 gear
Mike, what are your top 3 gear?
1. Salomon Sense Pro 4 / Trail running shoes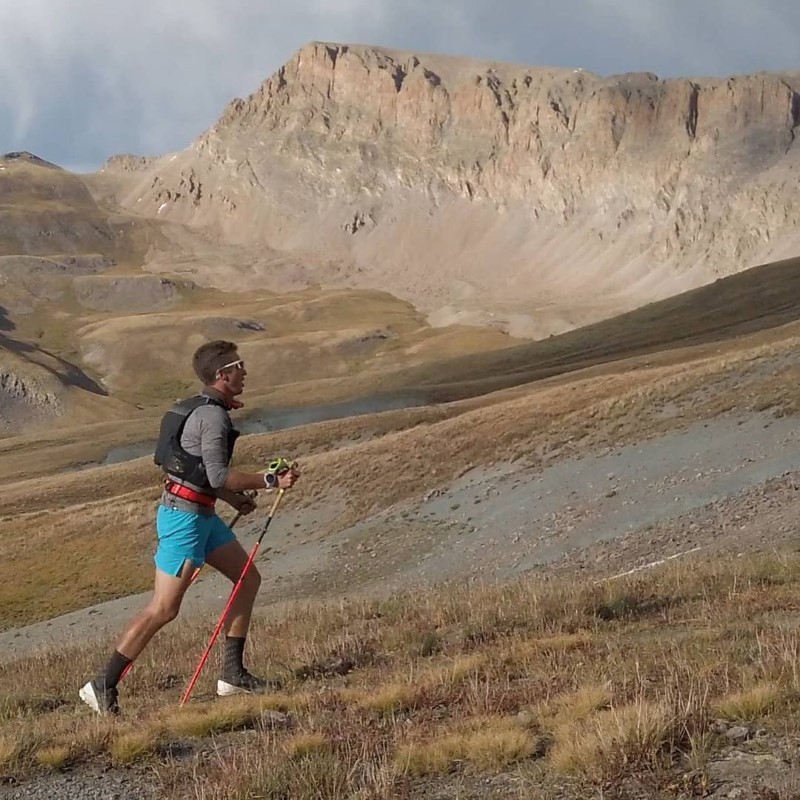 2. Leki poles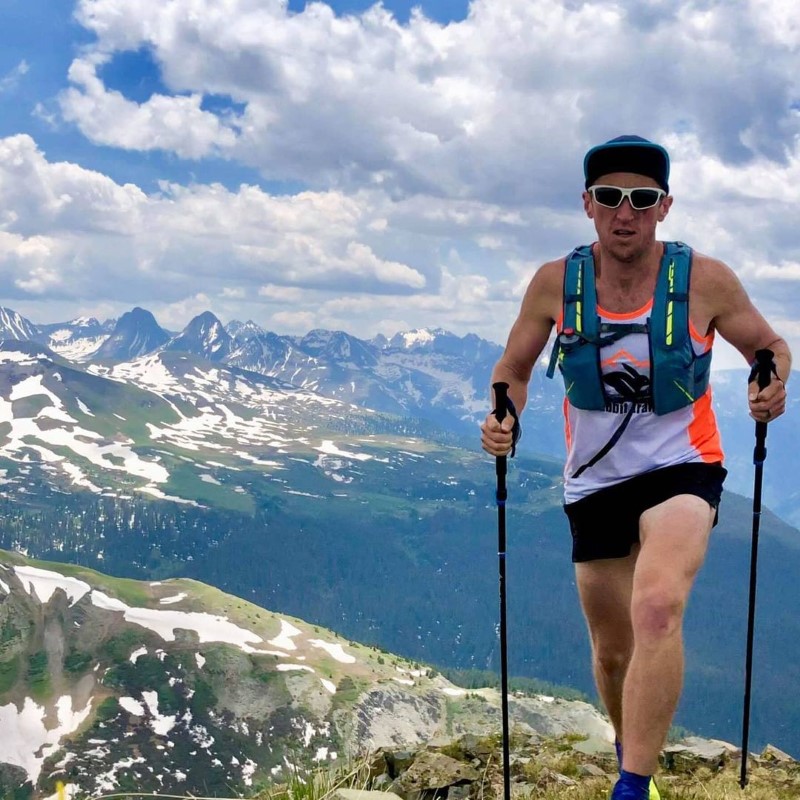 3. Injinji socks… gotta keep my feet happy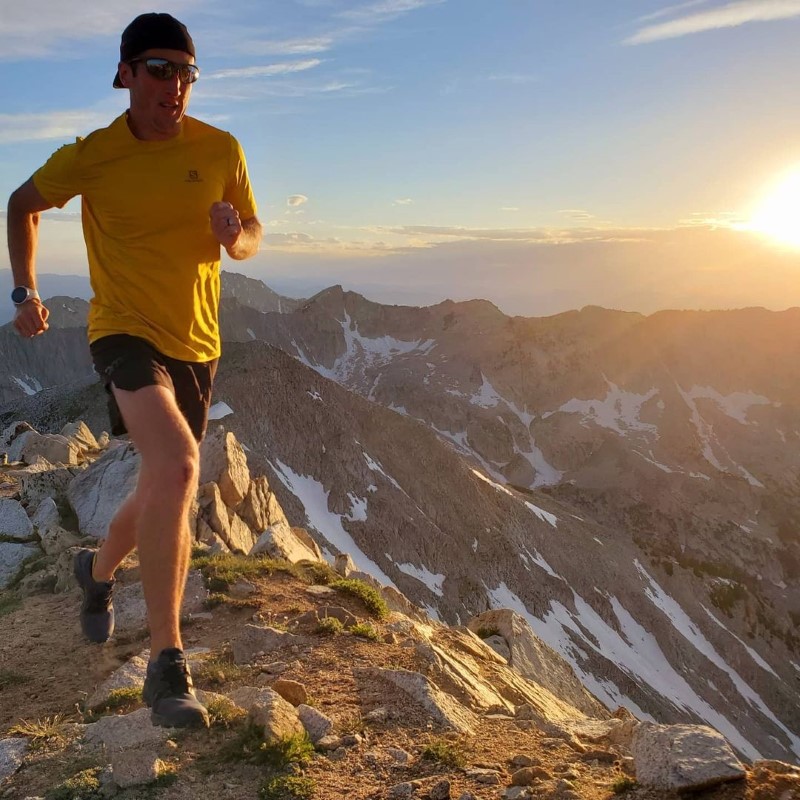 Product details
Salomon / Sense Pro 4
Ideal for picking up the pace on fast, rolling terrain, the SENSE 4 /PRO draws on road-running standards for a dynamic ride and just the right amount of protection.
Salomon: Sense 4 Pro
To give you extra grip and stability, this PRO level SENSE shoe is packed with trail-specific features like a hydrophobic upper and Contagrip® specific compound for premium traction.
Features:
Road-running inspiration: A soft hydrophobic upper, just the right amount of cushioning and optimized midsole featuring Optivibe vibration-reduction technology ensure a dynamic ride.
Extra grip: The full rubber Contagrip® outsole offers premium traction, while Profeel film protects your feet from sharp objects on the trail.
Precise performance: Optimized drop (4mm) for greater precision and stability, and a more efficient forward transition.
Leki Poles
When trail running on steep terrain it can be more efficient to use a technique using both your legs and your arms to help get you up and down hills.
Whether you fancy Trigger Shark, Aergon, folding, fixed-length, or Vario poles. No matter whether you favor carbon or aluminum, Leki provides a wide selection of trail running poles!
The Micro Trail Pro is made for all trail runners who want to traverse demanding terrain and have the best equipment to do so.
The strap is made from highly breathable mesh material with an optimized close fit and is wider while encompassing your hand securely.
The Thermo grip extension ensures even more comfort and flexibility on steep terrain.
Leki: Micro Trail Pro
Injinji socks
Pavement or trail, training or race day, Inkinki's five-toe socks keep each toe separate, eliminating the friction that can cause blisters while freeing them to splay and align naturally for better comfort and feel.
Moisture-wicking materials, integrated ventilation, ergonomic fit, and focused cushioning keep you dry, supported, and comfortable on any run.
Soft, durable seamless construction creates a supportive, secure fit, a mesh top. With COOLMAX® fibers, it help keep feet dry and cool, and a band under the arch provides support and stability.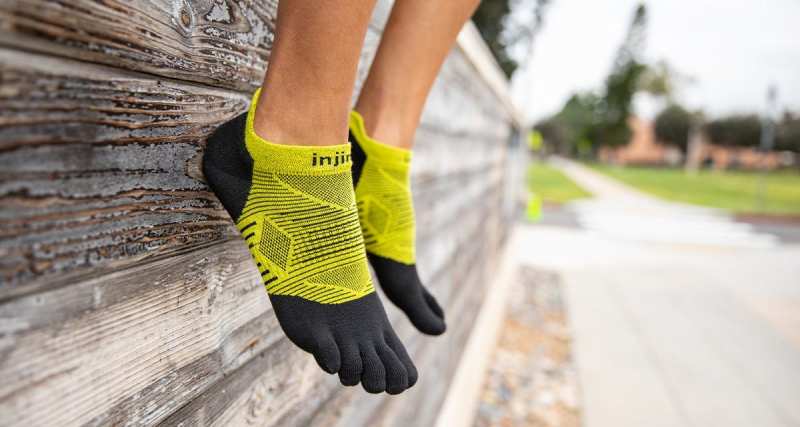 Features:
Arch support: Supportive band that offers a secure and stable fit.
Blister prevention: With each toe protected, skin-on-skin friction is completely eliminated protecting your foot from blisters and hot spots.
Moisture management: Each toe is wrapped in sweat-wicking material so your foot will be drier and therefore more comfortable than in traditional socks.
Total foot utilization: When your toes are separated and properly aligned, this allows your entire foot to be engaged in any athletic activity.
Injinji: Run lightweight socks