Simon Messner… born in the Alps, explores new heights, tells and even interprets the history of pure mountaineering.
Who is Simon Messner
The Italian alpinist and mountaineer has been able to repeat many rock and ice routes and make his first ascents on stunning mountains like Oman, Jordan, and the Dolomites.
Simon is also a movie director and tells true stories about the mountains and wild nature reserve for people who venture to discover them.
This is just a trailer of "Mord am Unmöglichen", but you can watch and discover more on simon-messner.com and be inspired by Messner Mountain Museum ( website, Facebook, or Instagram)!
Of course, there is no shortage of stories and adventures by Simon either on Instagram (messner_simon) or Facebook.
Simon carries with him a heavy and important surname, Messner, but in the mountaineering… it does not really matter. While in the mountains, the surname doesn't help you.
Top gear/equipment by Simon Messner
Simon, what are gears/equipment that you are using and why do you recommend them?
These are my personal top outdoor gear/equipment that I'm currently using in the mountains:
– Salewa / Litetrek Pro II / Tent
– Eliteclimb / Salamandra / Ice axe
– Salewa / Alpine-X / Ice tool
– Wild Country / Zero Friends / Climbing cams
– Salewa / Ortles 3 GORE-TEX Pro / Jacket
– Salewa / Himalayan TirolWool Responsive Lobster / Gloves
– Salewa / Ortles GORE-TEX / Gloves
Salewa / Litetrek Pro II
This tent is a robust but still light tent developed for mountaineering. I used the Salewa Litetrek Pro II Tent in ABC (advanced base camp) and on the mountain while climbing Toshe III (Himalaya) and Black Tooth (Karakorum) last summer. This tent is not as light as a Single-Wall-Tent but it is robust even in windy conditions.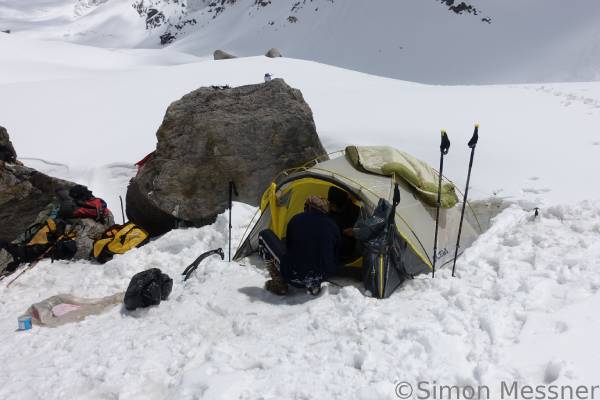 Eliteclimb / Salamandra
The ice axe is made for difficult and long routes in the mountains where I expect some mixed terrain too. I really like these Ice tools because of their weight and because of their performance in steep ice and mixed terrain. This ice axe is not a compromise but a fully functional ice tool that simply doesn't weigh very much.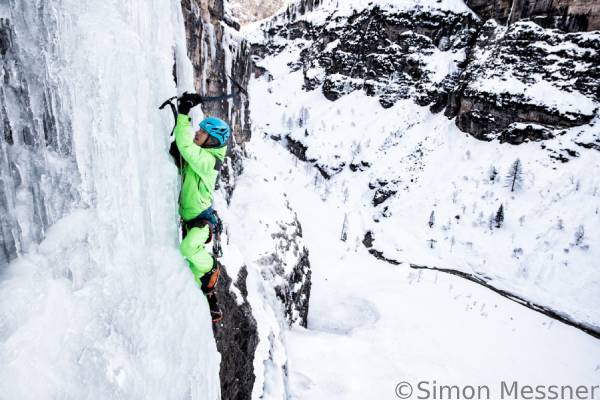 Salewa / Alpine-X / Ice axe
The ideal ice axe for long alpine climbs! I used a pair of the Alpine-X Ice Axe for the first ascent of Toshe III (Geshot Peak, 6.200m) and for the first ascent of Black Tooth (6.700m) in the summer of 2019. Both mountains are located in Pakistan.
If you add the movable hand rest (which is a genius innovation!) for this ice axe, then you have a super tool for moderate icy and snowy terrain!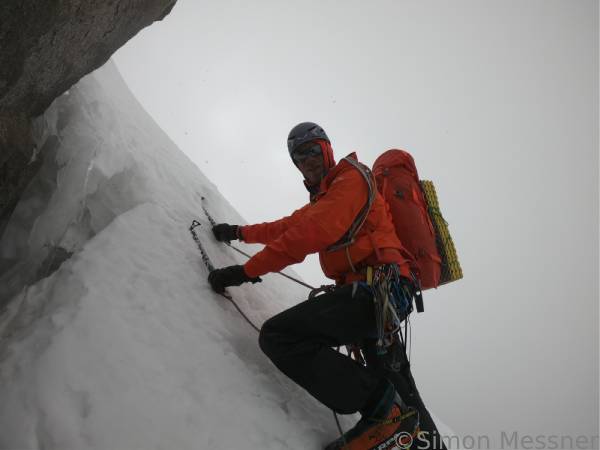 Wild Country / Zero Friends
These Friends exist in six sizes and they are so light and handy that I do not think twice to bring them on every climb.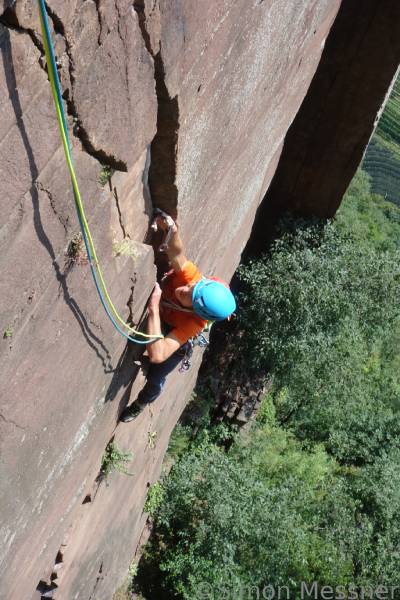 Salewa / Ortles 3 GORE-TEX Pro / Jacket
To be sheltered from all harsh conditions on the mountain (from ice climbing to higher mountains) and to have a robust layer between you and the mountain's environment.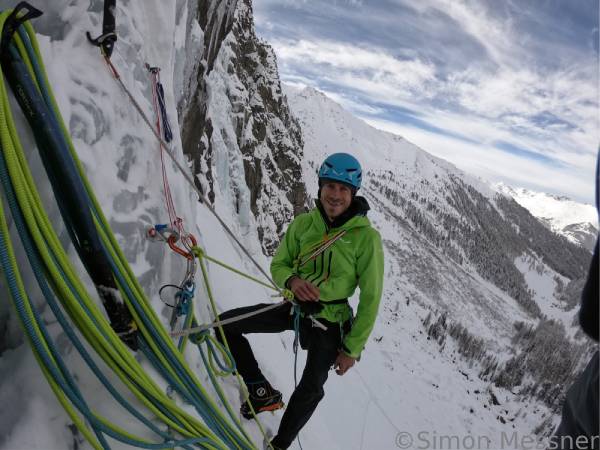 Salewa / Himalayan TirolWool® Responsive Lobster and Ortles GORE-TEX® / Gloves
All these gloves from Salewa are made out of wool (from tyrolean sheep). They are light and really warm! Wool as an old material used by our ancestors has a huge potential to keep you and your fingers warm – even today! Since these gloves exist (Salewa is making them for every degree of cold) I do not need down as filling material anymore…
Products details
Salewa / Litetrek Pro II
A very lightweight, robust and reliable, self-supporting 2-person tent for alpine trekking.
The Litetrek Pro II is a 2-person, double wall tent, designed for lightweight trekking in alpine terrain, where protection against severe weather, wind stability, light weight and compact pack size are key. Its three-season spec is optimised for use during the warmer months of the year.
The 100% self-supporting design means that you can pitch without problem on rocky terrain, or at alpine sites where there is not enough space to set up with guy lines and pegs.
Features:
Footprint available
Repair set
Door Storage Pockets
Different door opening options
Zipper with anti-catch flap
Nylon hooks for fixing the fly even in cold conditions
Extendable and replaceable anchor points
Cord locks
Extended guy line webbing
Reinforced Hypalon sleeve finishing
Vestibule extension solution
100% Self supporting construction
Website: Litetrek Pro II / Litetrek Pro III
Eliteclimb / Salamandra / Ice Axe
This is the lightest ice tool on the market and made from hybrid carbon and kevlar composite.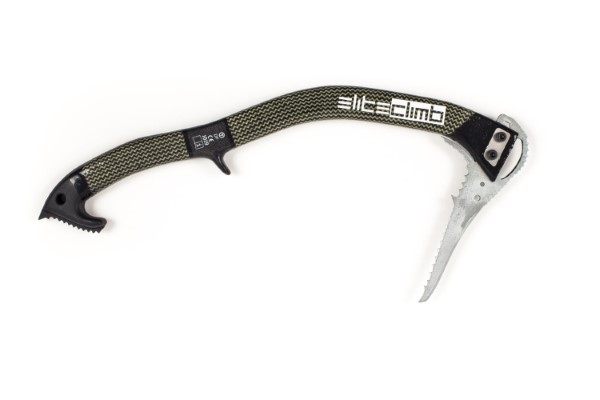 Salamandra is specially designed for ice climbing and long mountain routes. Height 50 cm (19.6 in), weight 350-430g (12.3 – 15.1oz) depending on the pick. Two holes- on top to attach HMS (pick) and on the bottom to attach cord. The shaft is covered with special abrasive paint for perfect grip.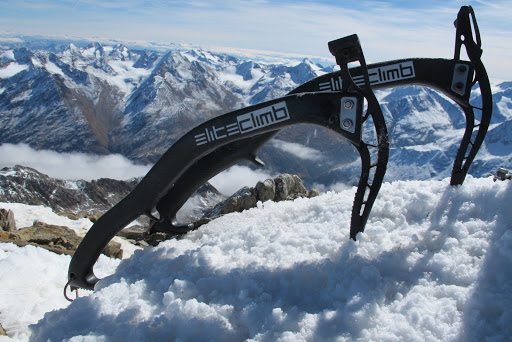 Website: Salamandra ice axe
Salewa / Alpine-X / Ice tool
A lightweight, hybrid ice tool for general mountaineering. Its ergonomic shape makes it especially comfortable to carry in the hand when used for support on ascents and descents.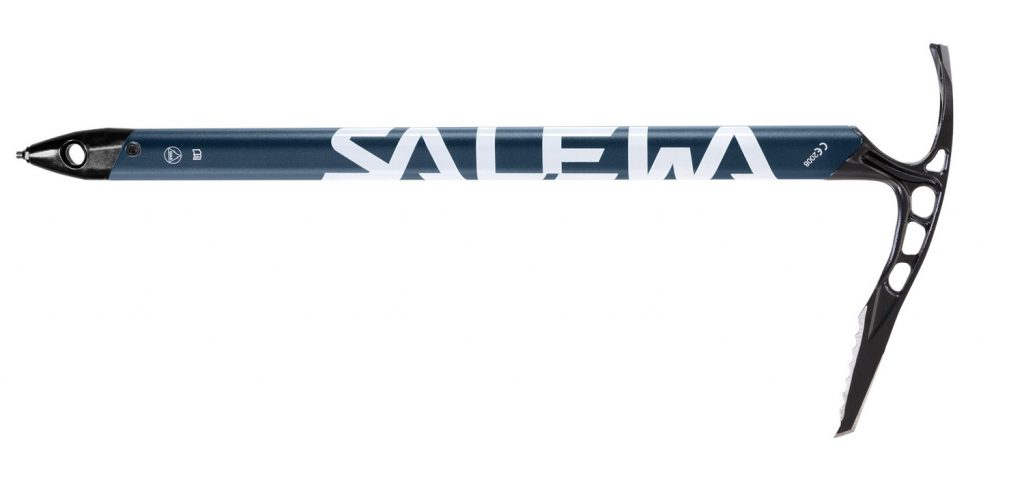 Alpine-X is strong and its aggressive steel blade gives improved penetration in steep alpine couloirs or for glacier work. With a sharpened shovel for effective cutting steps and chopping ledges and straight shaft for smooth plunging and secure belay construction.
Features:
Extremely comfortable to carry in the hand thanks to ergonomically shaped head
Aggressive 3 mm blade designed for reliable penetration in ice and snow
Good anchoring due to weight concentrated in precision-cast steel head
Straight shaft for good snow penetration and reliable belay construction (deadman)
Sharp (replaceable) carbide tip at bottom for better grip when moving on hard snow or ice
Sharpened adze for effective cutting steps and chopping ledges
Holes for clipping carabiner at head and bottom of shaft base
Anodised and hardened high-tech aluminium 7075, T6 shaft
Website: Alpine-X ice axe
Wild Country / Zero Friends
Zero Friends are climbing cams are for the smallest placements. Wild Country redesigned the latest iteration, tweaking the camming angle to allow for a narrower head. This allows it to fit into shallower placements, thinner cracks, pockets, or even peg scars better than ever before.

Solid holding power in small placements. The ultimate weapon for thin cracks, pockets or pin scars on cutting-edge climbs and extreme adventures.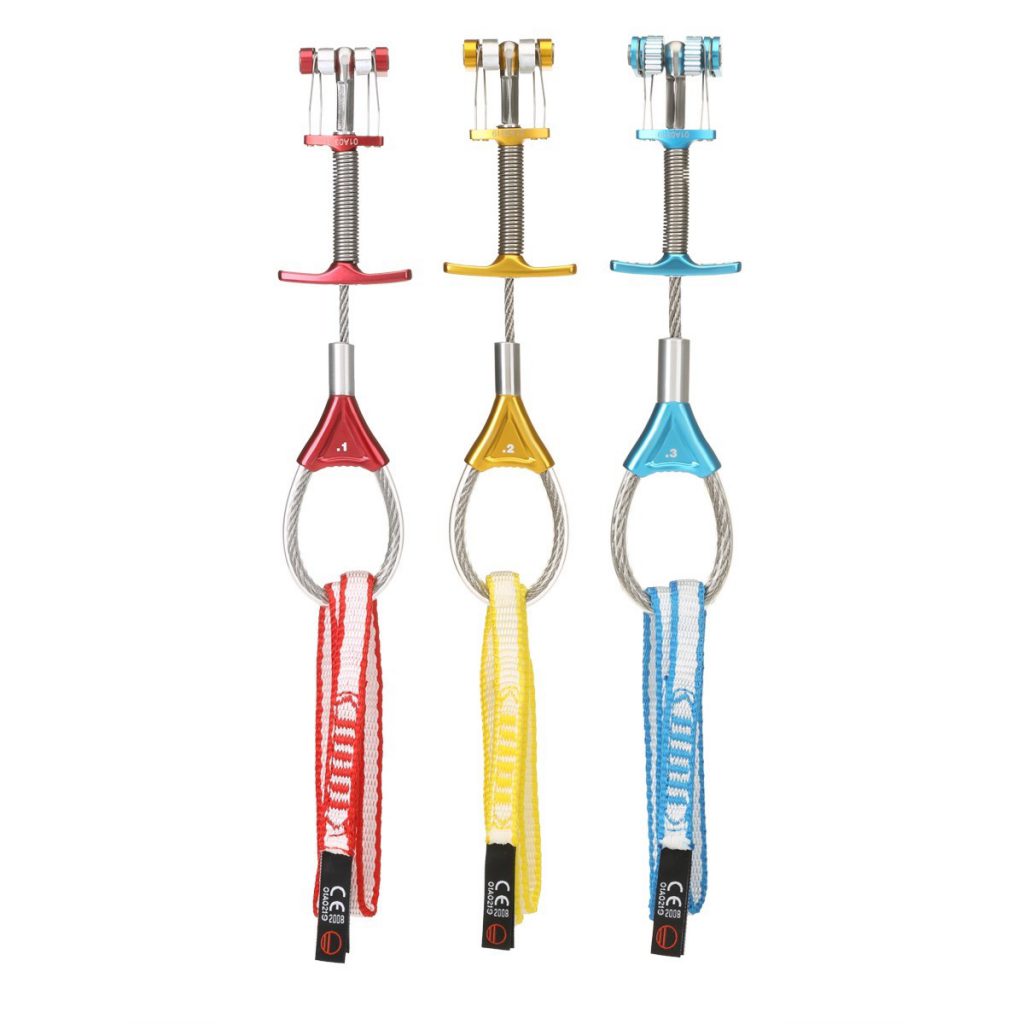 Website: Zero Friend 0,1 – 0,3 set – Zero Friend 0,4 – 0,75 set
Salewa / Ortles 3 GORE-TEX Pro / Jacket
A men's waterproof and breathable GORE-TEX® Pro shell jacket for full alpine weather protection.
Compare Salewa Ortles 3 with similar models
using the comparison tool. Easy, fast, free!
The Ortles 3 GORE-TEX® Pro Shell Jacket is a serious 3-layer shell jacket with a waterproof and breathable GORE-TEX® Pro membrane that is easy to wear over winter layers.
Developed together with leading mountain guides' organisations in the Alps and designed for alpine mountaineering, ski mountaineering, glacier mountaineering and ice climbing, it has a fully-featured technical spec.
Salewa / Himalayan TirolWool Responsive Lobster
High-alpine insulated lobster gloves for expedition use and winter alpine climbing with thermo-regulating TirolWool® Responsive and merino wool insulation.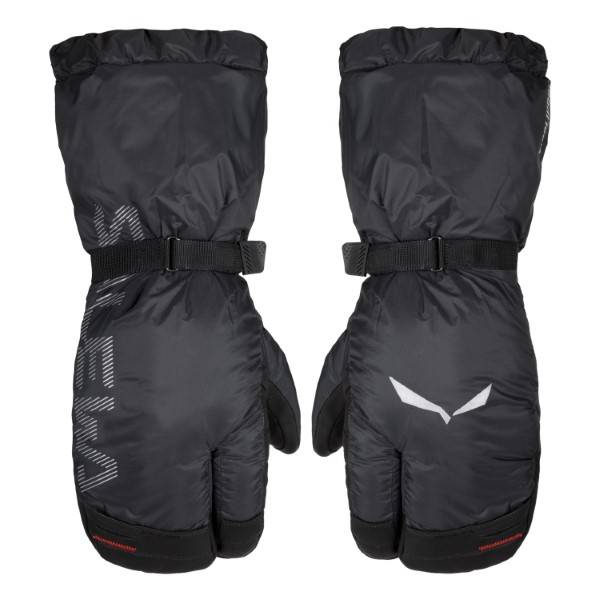 Designed to provide protection and insulation up to altitudes of 6,000 meters, they ensure good protection from snow and wind, while the thermo-reactive insulation promotes blood flow and reflects heat back to your fingers.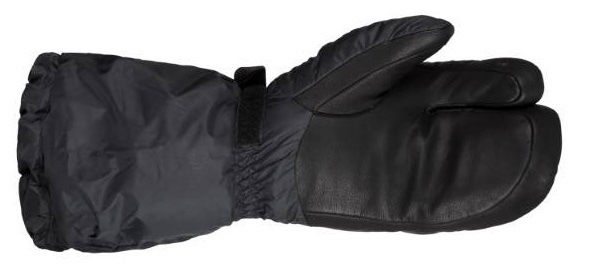 The goatskin leather-lined palm, 3-D thumb, and anatomically pre-shaped design deliver good grip and dexterity.
Features:
Anatomically preshaped hand
3D thumb construction for ease of movement
Full leather palm
Finger & thumb grip reinforcement
One-Hand cuff regulation
Long, adjustable cuff
Carabiner loop preventing snow to enter the glove
Separated forefinger construction
Website: Himalayan TirolWool Responsive Lobster
Salewa / Ortles GORE-TEX / Gloves
Waterproof, warm and breathable glove for mountaineering and glacier crossing with a durable goatskin leather palm, reinforced back and GORE-TEX® glove insert.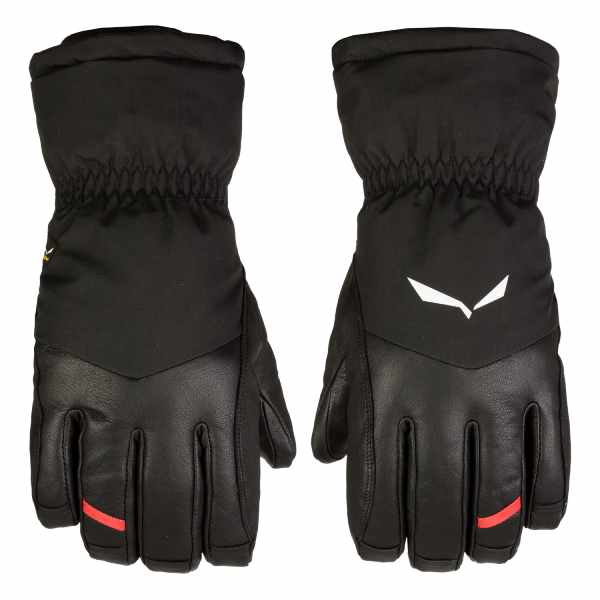 Waterproof, warm and breathable gloves for mountaineering and expedition use with a durable goatskin leather palm, reinforced back and GORE-TEX® glove insert. TirolWool® Celliant® thermo-reflective insulation reflects radiant heat to keep your hands warmer for longer.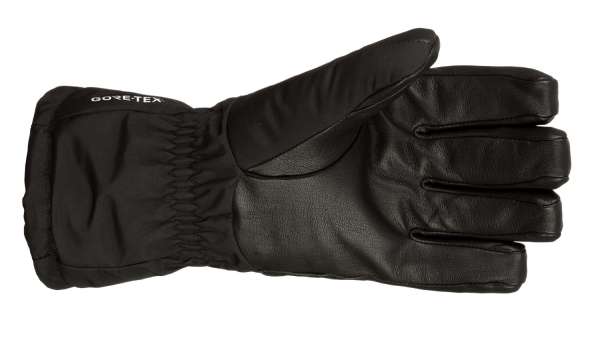 The anatomically pre-shaped fingers ensure good dexterity and the single-handed cuff adjustment provides additional comfort.
Features:
Anatomically pre-shaped fingers
Full leather palm
3D thumb construction for ease of movement
High dexterity
Finger & thumb grip reinforcement
Reinforced backhand
One-Hand cuff regulation
Fleece-lined interior
Wrist elastic
Website: Ortles Gore-Tex gloves