Feelmax Kuuva Trek is a Barefoot Trekking Shoes, we have weared them for three months. On this review we give our opinion about comfort & flexibility, water resistance & breathability, grip on different conditions and walking on cold environment.
Review of Feelmax Kuuva Trek Hiking Shoes is a Finnish brand specialized on barefoot footwear, from casual and running shoes, till hiking boots.
Comfortable and flexible
Have you ever had the feeling when you put your feet for the first time inside a shoe and you say: aaaaah, it feels sooo good !
This was the initial feeling when I tried wearing the Kuuva Trek for the first time… and still it hasn't change.
Made with leather with canvas trim for increase the durability, it's lightweight with its 299 grams. Flexible, very flexible and with the classic and functional wide area for toes.
Water resistant & breathability
What is common between walking in the city and walking in the forest? The rain. The most important thing is that, with or without rain, the feet are keep dry.
Walking with Kuuva Trek under the rain, dry. Walking under heavy rain, dry. Stepping in the sparkling puddles in the city center, dry. Stepping in deep muddy puddles in the forest, wet. In this case, some water was entering from the area around the eyelets…
Kuuva Trek with light rain

Kuuva Trek in the deep mud
The Kuuva Trek hiking boots are water resistant. They are not water proof and this is clear. You can reach the level of waterproofness spreading wax all around the footwear.
The barefoot hiking boots have not been tested in warm environment, at the moment for us it is not possible to judge the breathability in this conditions. Nevertheless, I can affirm that, after the water entered inside the boots, feet were able to dry quite soon during the hike.
Grip of Feelmax Kuuva Trek
The grip of Feelmax Kuuva Trek is steady and firm. Walking on challenging surfaces like steep, smooth and wet stones wasn't a problem. As well on soft or iced snow.
Instead, the grip on a pure sheet of ice is unreliable. I felt more comfortable and more stability wearing other pair of hiking shoes.
Thermal insole
A mention about walking in the cold environment. Snowing conditions. Because the outsole is a couple of millimeters high (2.5 mm for the precision), there isn't thermal insulation. The heat of the feet is exchanged quickly with the cold surface leaving the feeling of cold in your feet. This feeling does not happen when you are walking, the feet are at a comfortable temperature.
To remedy for this inconvenience it's to use a thermal soles that can be easily inserted inside the boot. The thermal insoles keep your feet warmer with a discrete flexibility. This is actually the only cons that worth to mention.
Barefoot, science and our experience
Barefoot footwear is a valuable solution to make your feet stronger, but because we don't have any medical degree, we can't advice to use barefoot over common shoes.
This is what science says about barefoot: "Weakness of foot muscles may contribute to a variety of loading-related injuries. Supportive footwear may contribute to intrinsic foot muscle weakness by reducing the muscles' role in locomotion (e.g., absorbing forces and controlling motion). Increased stimulus to the foot muscles can be provided through a variety of mechanisms, including minimalist footwear and directed exercise. "
A note about the first experience with barefoot footwear. I can report that after a constant use of these barefoot hiking boots, the arch of the foot has become considerably stronger and the pain that lasted for over a year has disappeared after a couple of weeks. A good news after I've tried in vain supportive footwear or exercises for helping the muscles (this is mostly caused by laziness).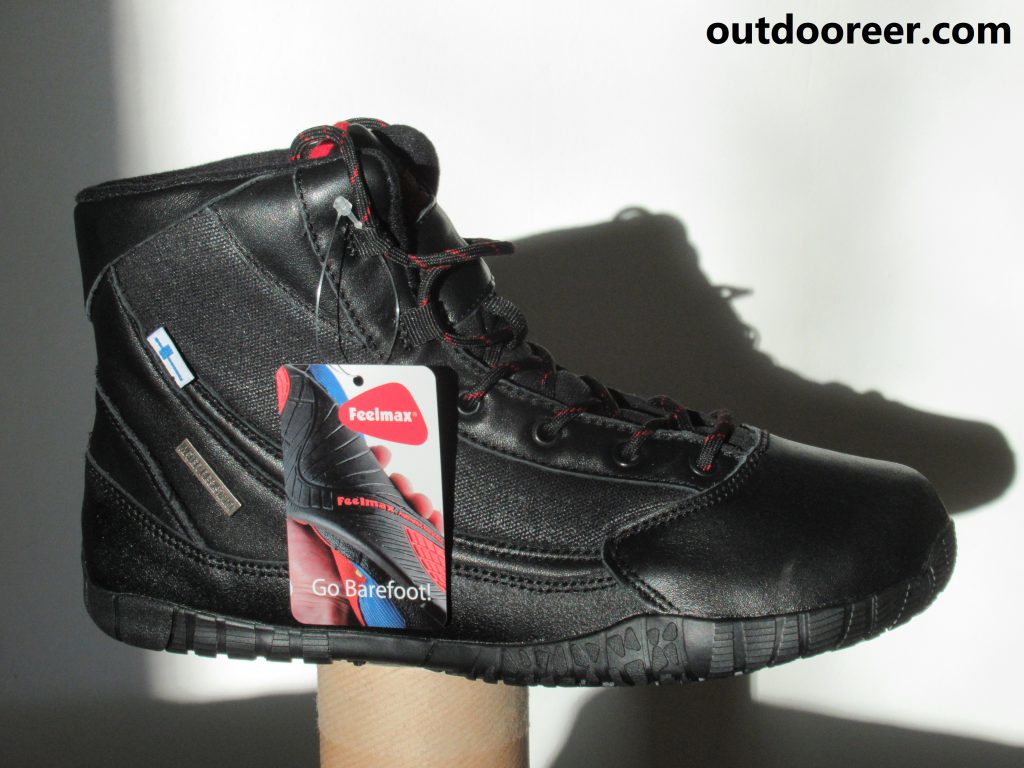 Overall opinion
The overall opinion for this Feelmax Kuuva Trek is positive because:
good level of water resistance
good grip over challenging surfaces
comfortable from the first day
Feelmax Kuuva Trek are suitable if you are a novice to barefoot footwear and you want to start your adventure with barefoot shoes or, if you are already an experienced barefoot outdooreer and you want to start your next adventure in the outdoor.
You may be interested on other barefoot hiking boots, link.
Help us growing sharing this article: [addthis tool="addthis_inline_share_toolbox_797x"]