The four season tent allows you to enjoy outdoor even during winter time, but what are the differences between the three and four seasons tent?
We are going to answer this question focusing on features and technology.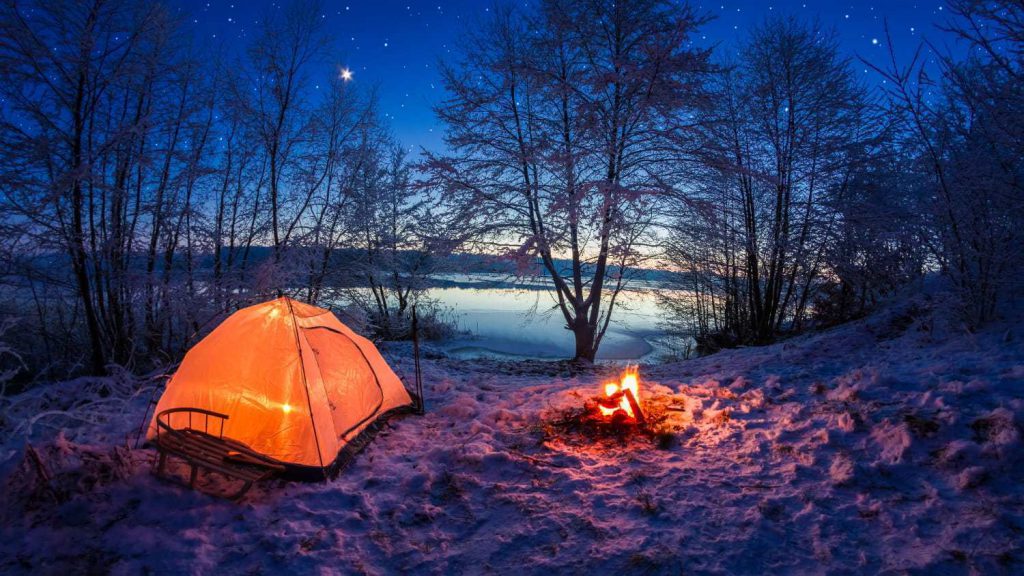 Three season tent
Three season tents are most typical outdoor tents and are designed primarily to keep your pack light while still offering breathability and protection from bugs, wind and rain. Properly pitched with a taut rain fly, 3-season tents can withstand heavy rains and light snow, but they are not the best choice for sustained exposure to harsh storms, violent winds or heavy snow.
It is called three season for a reason… spring, summer and fall.
Four season tent / winter tent
Four season tents are, instead, designed to withstand extreme weather, holding up to fierce winds and heavy snow loads. They are not necessarily meant for four seasons, they are most often meant for winter only. You might be able to use them in early spring and late fall as well, but they will almost certainly give you a free entrance for sauna during summer.
It's call "four reason" for… no reason. The "four seasons tent" name is misleading, it's not the season but rather the environment that dictates your choice of tent.
Because it is normally used only in the winter season, from now and later in this article we will use a more descriptive name for "four season tent": winter tent.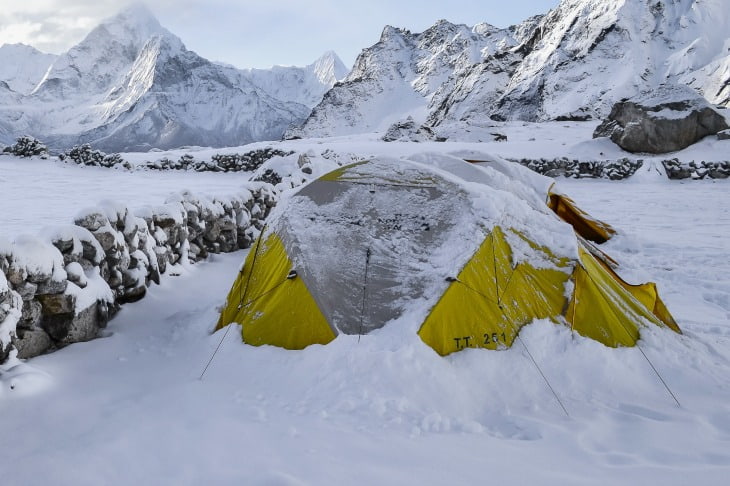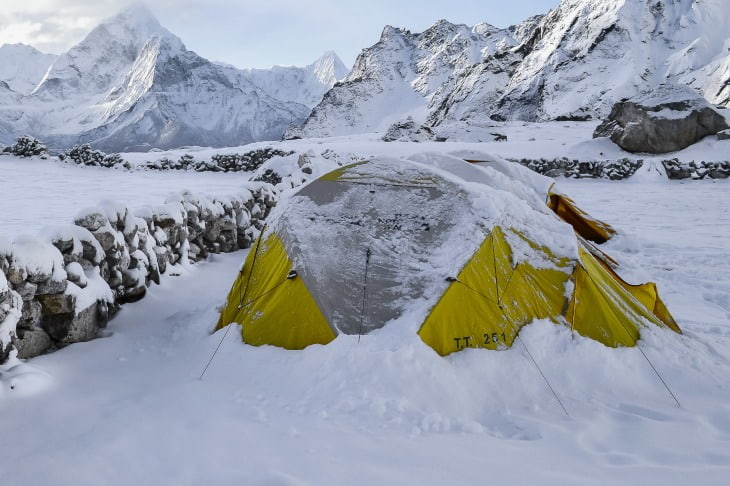 Structure
Three season tents
The structure in three season tents are thinner, lighter weight frames and sleeveless pole setup cuts weight while still remaining strong enough to survive most mild weather events. They can also have a double-wall construction (tent body + rain fly) for greater versatility and configurations. The vestibules usually sit off the ground to allow air to move in, but during hot weather even two ventilation windows are hardly enough to provide comfortable temperatures.
Winter tents
Winter tents are thicker, made mostly with two layer walls, they have more robust frame designs and steeply angled sides.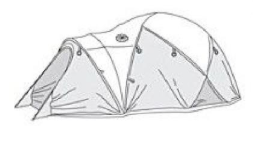 The most common design is the geodesic. The geodesic dome features rigid shapes and it is characterized by a number of interlinking crossover poles which makes for an inherently stable structure allowing them to bear substantial snow loads or withstand powerful winds.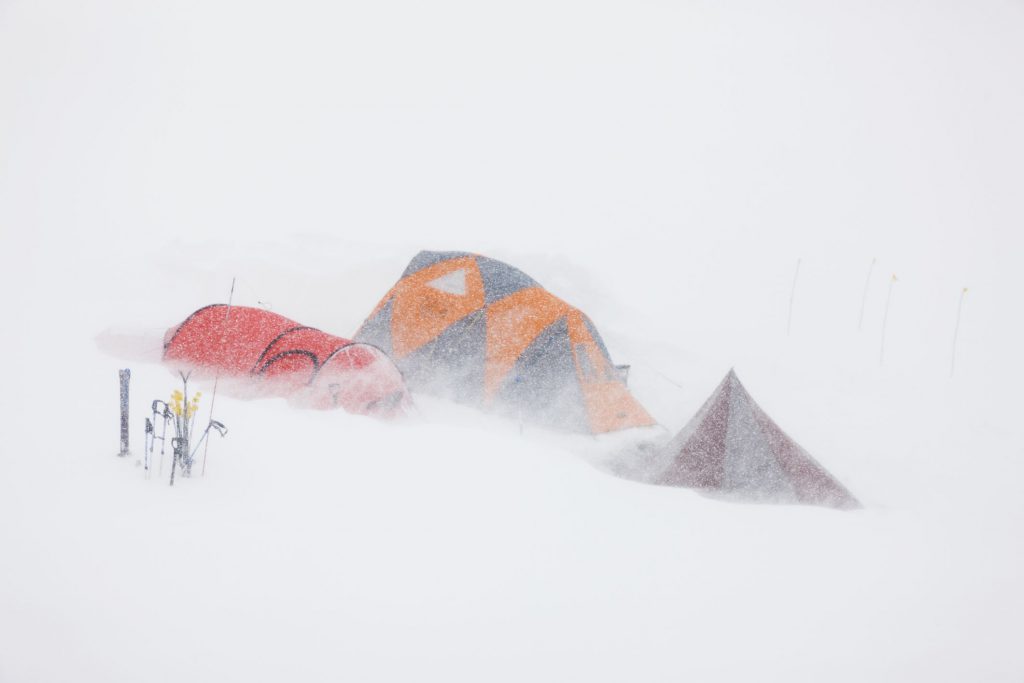 The rain fly or vestibules often extend completely to the ground, blocking wind, and often have flaps around the perimeter of the tent that fold inward, which allows for snow to be packed onto them improving stability, protection from the elements and prevents snow and cold air from blowing inside.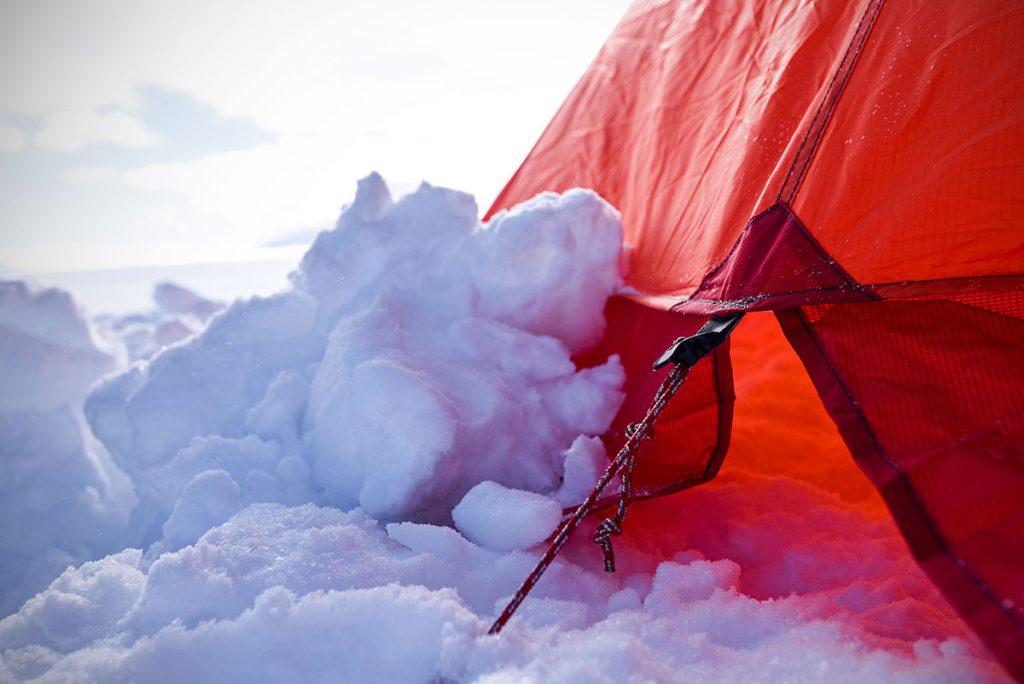 Winter tents are generally a bit roomier than a typical 3-season tent. Many models feature a large hooped vestibule to create the added space needed to store weeks worth of bulky winter or climbing gear. Some tents provide two vestibules, allowing for specialization, for example cooking in one and boot storage in the other one.
The compromise for all these benefits is not having an efficient ventilation, compared to the three season tent.
Poles
Winter tents often have more than two poles, usually four, which provide enough strength to hold up against the weight of accumulating snow or ice, and bear additional stability in higher winds with an extended use of guylines.
In most modern style tents, whether geodesic or tunnel, the poles are made from glass fiber, metal, or carbon fiber. We suggest don't buy any tent with glass fiber poles, if you are serious about your camping because they are not durable or strong enough. Carbon fiber is super lightweight and strong but it's also expensive and only used on the lightest tents.
Most of the manufacturer of winter tents use aluminium poles and, although on the whole they all look the same, their performance can vary enormously due to both the construction and materials used.
Poles make up a significant proportion of the cost of the tent, but they're also one of the simplest elements to make a tent stronger and more durable.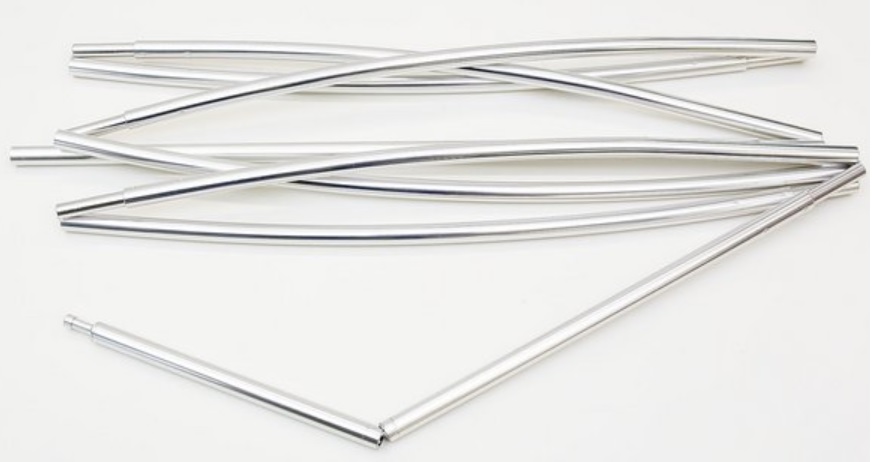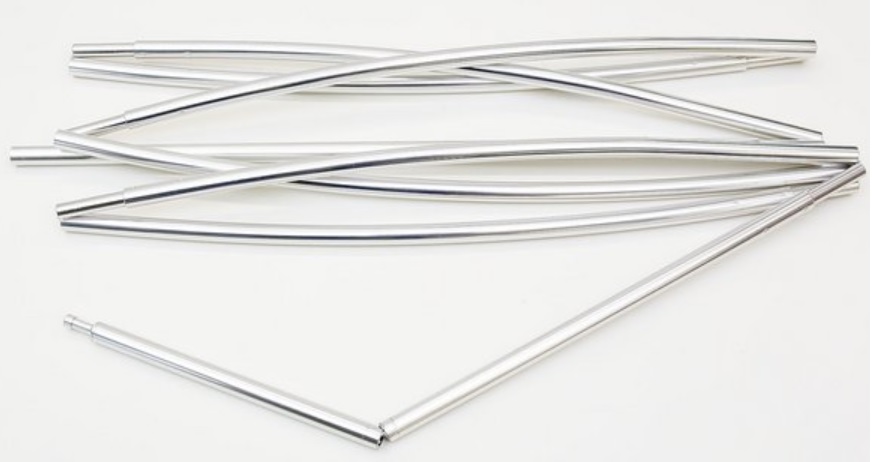 Fabric
Three season tents are often built of light weight fabrics and feature more mesh for breathability and airflow. Open meshy walls and lots of vents will allow for air to flow freely throughout the entire tent while protecting the outdooreer from a direct wind.
Fabrics for winter tents (or 4-season tents) are heavily weatherproofed and waterproofed. They also feature more durable fabrics—as snow can be ruthlessly abrasive.
The walls are often built entirely mesh free and use a polyester of nylon to trap in some body heat and block out gusty winds.
Mesh
Because warmth is important, four-season tents greatly reduce or eliminate mesh on the tent body. Some feature mesh "windows" that can be zipped shut to seal out the elements.
Don't buy a 4-season tent that has lots of mesh, as it is very difficult to keep the warmth in when you need it. Much better to have ones with solid nylon panels to reduce airflow!
Weight
Winter is winter! Because of the double layered protection, number of poles, more resistant pegs, ticker fabrics, winter tents do tend to be heavier than three season tent.
Groundsheet
For a winter tent is important how waterproof and durable the groundsheet is. The fabric must be minimum 10,000 mm waterproof and made of nylon because of its high strength, low weight and overall durability.
Color
Winter tents are usually available with bold and bright colors to make it easy to locate them in a storm. It may not be an important detail, but if you are not able to find your white tent during a snow storm… you may get in troubles.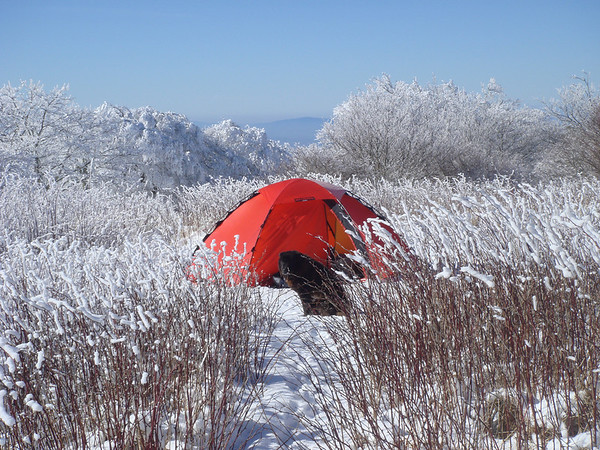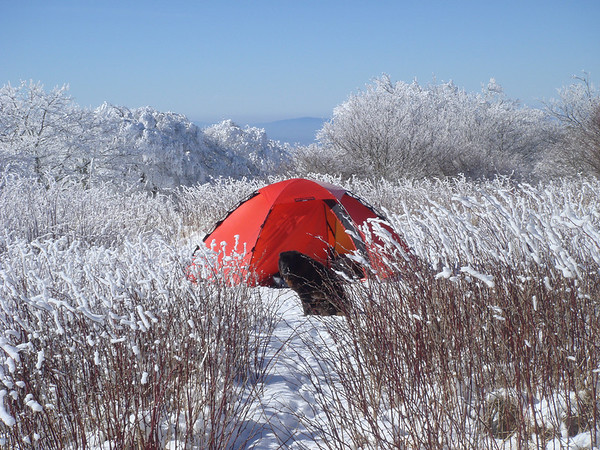 Is it possible to use a 3 season tent during winter?
The short answer to this question is that if you are going to camp in a place with moderate to heavy snowfalls and/or strong winds, you will need a winter (4 season) tent as a 3 season one may break down and the snow may get inside. One of the pitfalls of using a 3 season tent during winter is that it will need regular maintenance and it will get damaged sooner than expected.
Is it possible to use a 4 season tent (winter tent) not in winter?
Well, if you don't mind sleeping in a green house… no problem. Otherwise, choose a 3 season tent which allows you still to keep yourself dry during heavy rains and guarantee a good level of breathability.