The Americas! Like a river of emotions and trails of colors, Haley brings you to the most spectacular natural sites, from the Canadian Rockies to Patagonia.
Hayley Gendron
Mountains, valleys, deserts, glaciers, canyons, forests… it's a really good collection of beauties forged, step after step, climb after climb, by Hayley.
Certainly, many other landscapes, many other adventures, many other shots await Haley.
Discover more from Haley's epic journeys on Instagram, follow hayoui on Instagram.
Top 3 gear by Haley
Haley, what are your top 3 gear?
– La Sportiva, Eclipse GTX hiking boots
– Patagonia, Triolet jacket
– NEMO Equipment, Riff sleeping bag
1. Hiking boots
"La Sportiva Eclipse GTX hiking boots, because they are super lightweight and can act as both a solid hiking boot and an approach shoe, great for long hikes and long approaches to climbs."
2. Jacket
"Patagonia Triolet jacket, because it is the single layer that has protected me from the elements time and again, keeping its form and quality."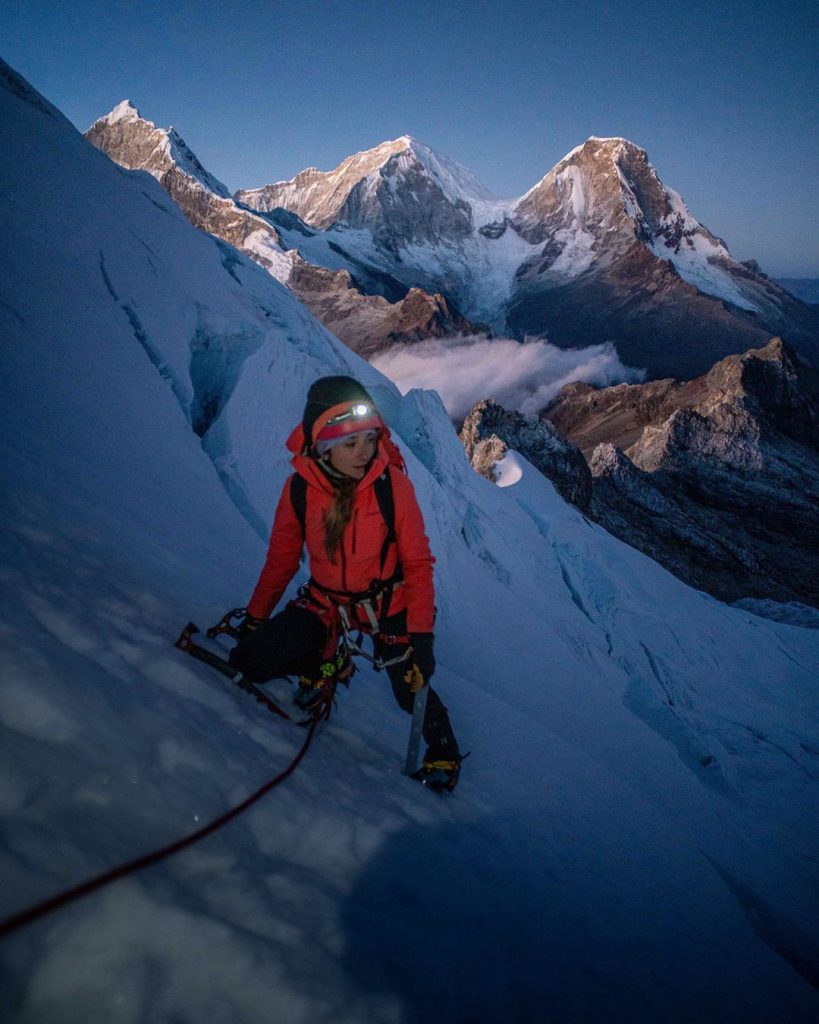 3. Sleeping bag
"NEMO Equipment, Riff sleeping bag, because I love being cozy and it has gills for temperature control."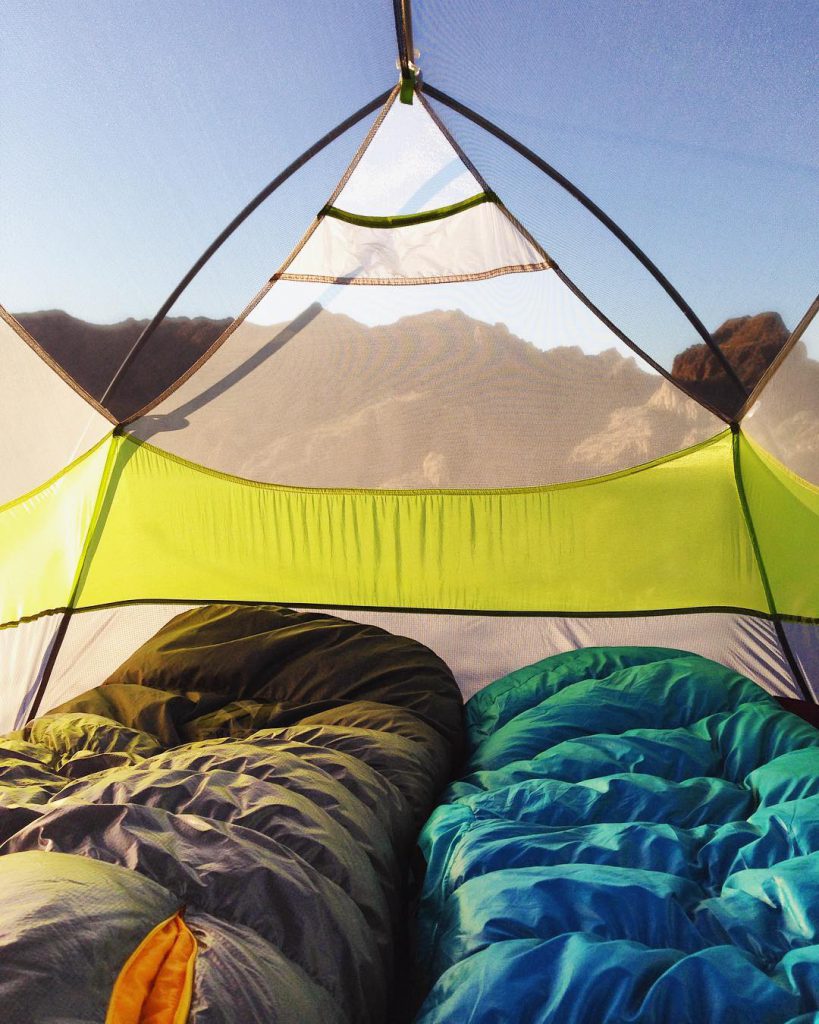 Products, details and features
La Sportiva Eclipse GTX hiking boots
The Eclipse is a leather hiking and backpacking boot that incorporates a GoreTex membrane and provides ideal multi-surface traction.
With a high-cut ankle and a polypro stiffener in the midsole, these boots will provide excellent protection and comfort on long, technical hikes and variable weather and terrain conditions.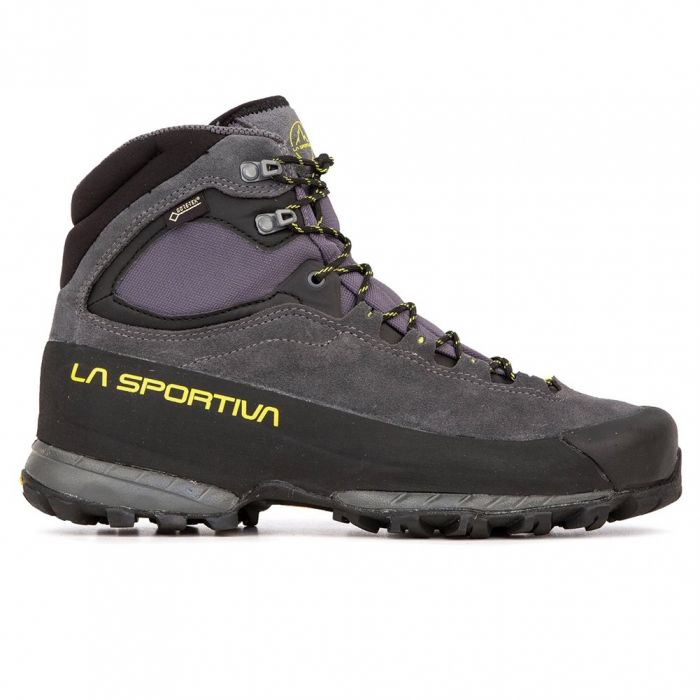 Features
• Protective cuff
• 3D Flex system provides protection, freedom of movement and precision
• Differentiated lacing system: Hooks on the top half and loops on the bottom.
• Super-Sticky XS-TREK compound w/ IBS and differentiated lugs.
Product info
Weight: 18.6 oz / 527 g
Last: Traverse
Upper: Roughout Leather / Vibram Rubber Rands & Toe Caps
Lining: Gore-Tex Extended Comfort
Midsole: 4mm Ortholite Approach Insole/ Injected Molded EVA/ 2mm Polypropylene Stiffener
Sole: Vibram XS-TREK compound w/ Impact Brake System
Visit LaSportiva, Eclipse GTX: Man | Women
Patagonia Triolet jacket
Triolet jacket is a versatile and reliable jacket for mountaineering and alpine activities.

It's 3-layer waterproof/breathable GORE-TEX fabric with a recycled face in a feature-rich shell to deliver versatile, durable performance in heavy snow, driving wind and rain.
Main features
– Full sealed and waterproof zip
– Helmet and harness compatible
– Under-arm zips for ventilation
– Weight, 550 g (19.4 oz)
NEMO Equipment Riff
The Riff is a 3-season 800 FP (fill power) down sleeping bag for the Backcountry.
Designed for side sleepers, NEMO's unique Spoon™ shaped bags offer more room at the elbows and knees, allowing side sleepers to shift positions comfortably throughout the night.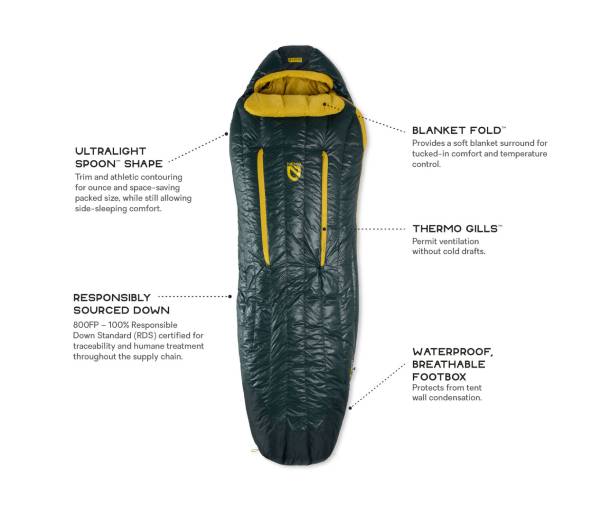 Two sizes, regular and long, and two versions are available for Riff sleeping bag: 15F / -9C and 30F / -1C.
Visit NEMO Equipment, Riff sleeping bag: Men | Women